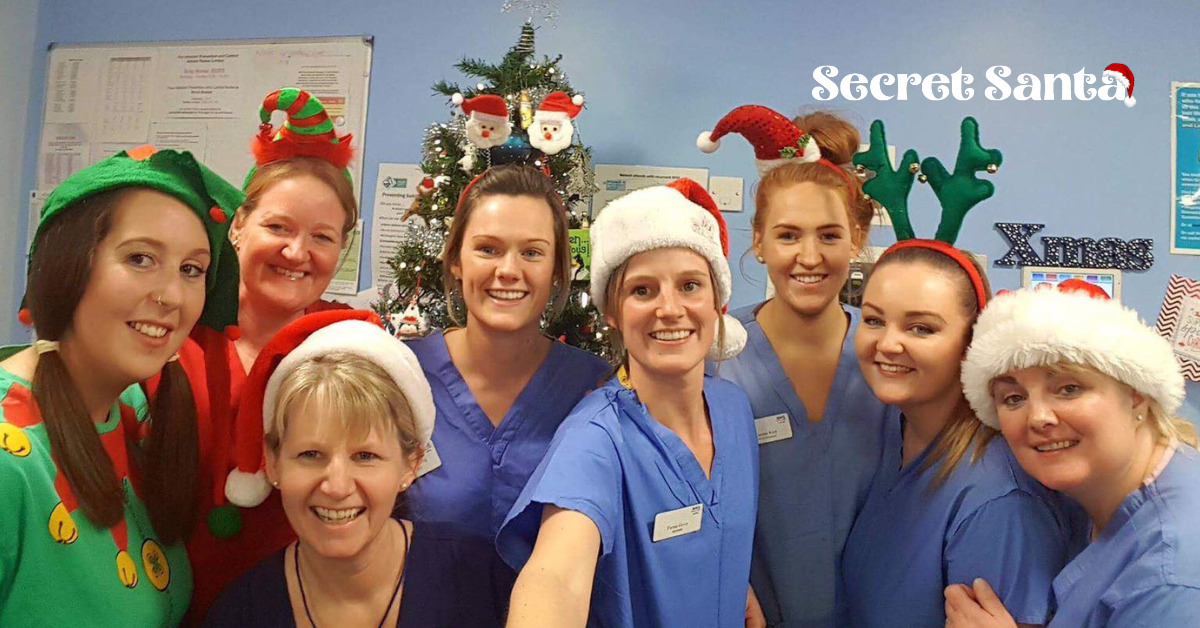 Secret Santa Appeal
Be their Secret Santa and give the gift of joy to patients in our hospitals and communities during this festive season.
Christmas is approaching, a time for family and friends, so we're asking our supporters to help create happy memories for patients in our hospitals and communities during this festive season.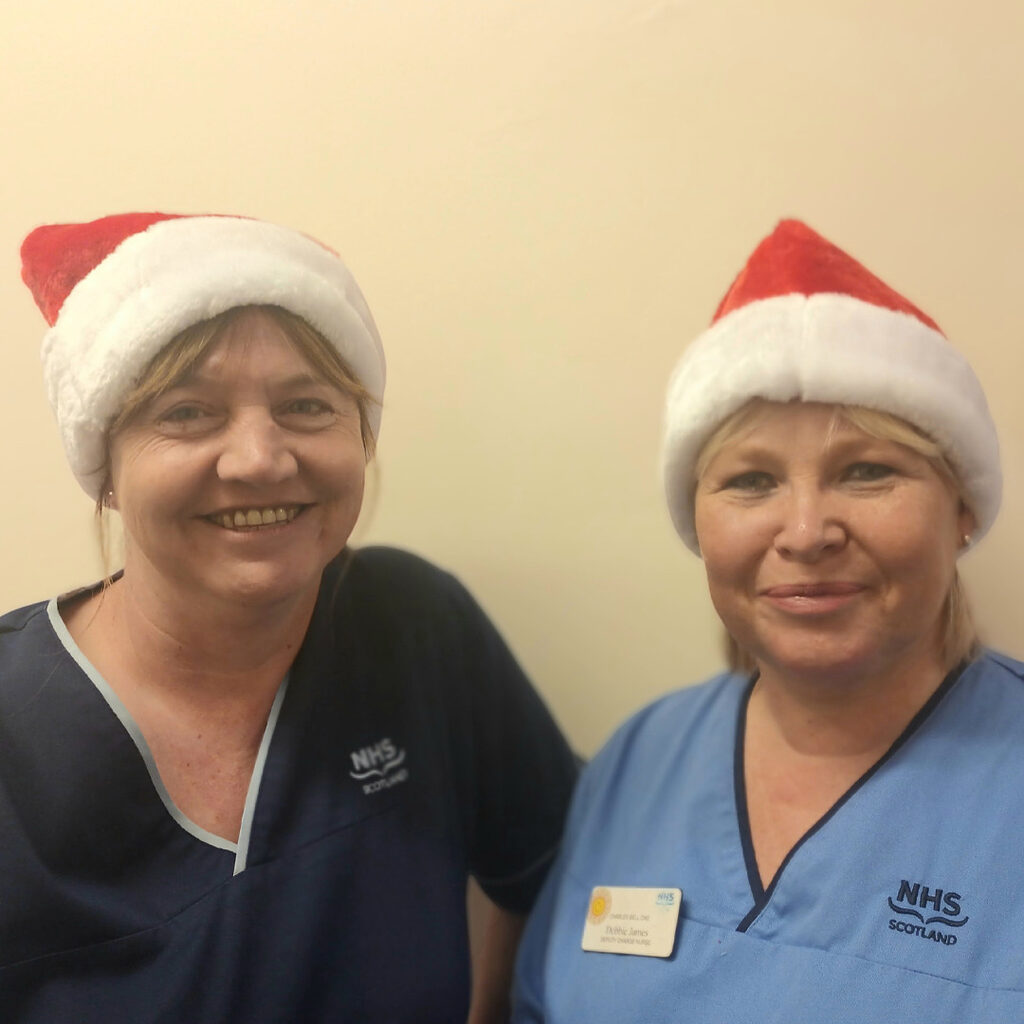 We are Julie and Debbie, nurses who work in the rehabilitation wards at the Astley Ainslie Hospital. We've worked every other Christmas caring for our patients throughout our long NHS careers.
On our wards, we care for patients with brain injuries or those who have suffered a stroke. While our patients are in our care, we hope to improve their physical condition, or when this isn't possible, give them the skills to improve their quality of life. We give emotional support during difficult times and strive to keep our patients mentally well.
Will you be their Secret Santa and give a gift of £20 today to lift someone's spirits when they need it most?
In the weeks leading up to the big day, we hold a festive get-together on the ward and invite the patients' families to spend quality time with their loved ones. A local choir visits, and we all sing Christmas carols.
The singing makes everyone feel included. One of our patients who is an amputee who'd suffered a stroke, couldn't speak. As singing is controlled by a different part of the brain, he could join in and loved to sing. Singing made him light up with joy, as the music triggered happy memories for him. Moments like these make our jobs worthwhile.
Be a Secret Santa and help create happy memories for patients in hospital this Christmas.
Many of our patients on the ward can be in our care for a long time. When we get to Christmas, we do everything we can to make all the complex care arrangements that get patients home to their families and friends. We'll help them prepare for the special day, like doing their hair and picking out special outfits.
Your kind donation will mean we can go above and beyond to bring Christmas to all those patients who are just too unwell to go home to loved ones.

When going home just isn't possible, the staff work hard to ensure that we bring the festive spirit to the wards and create a brighter Christmas for everyone. We'll ensure family or friends get to see their loved ones by facilitating video calls at their bedside if distance means they can't be with them.
Not all patients have family or friends to go home to for the festive period. One male patient was keen not to be discharged for the big day. He told us in the new year that his time in our care was the best Christmas he'd ever had, as for many years before, he'd spent Christmas alone.
On Christmas Eve, the ward staff act as Santa's helpers and place presents at the foot of patient's beds, so they wake up to their gift on Christmas morning. We give them thoughtful little gifts like nice toiletries, bed socks, and chocolates. Some of our patients arrive at the ward lacking possessions and don't have visitors, so we're able to give them back some dignity and provide them with some of what they need. For many of our patients, the present they receive from us is the only gift they'll get.
A gift of £20 could buy a Christmas present for a patient too unwell to go home. This small act of kindness will help someone feel remembered.
Your message of support and a gift of £20 today could create a brighter Christmas for a patient spending time in hospital this year. You could be their Secret Santa this year and spread some festive joy.
With your help, we can give the patients of NHS Lothian a Christmas with some happy memories. With your help, patients of NHS Lothian can have a joyful Christmas full of happy memories.
Julie and Debbie
NHS Lothian
Donate
Your donation will go a long way to making this Christmas special for someone who is spending it in hospital.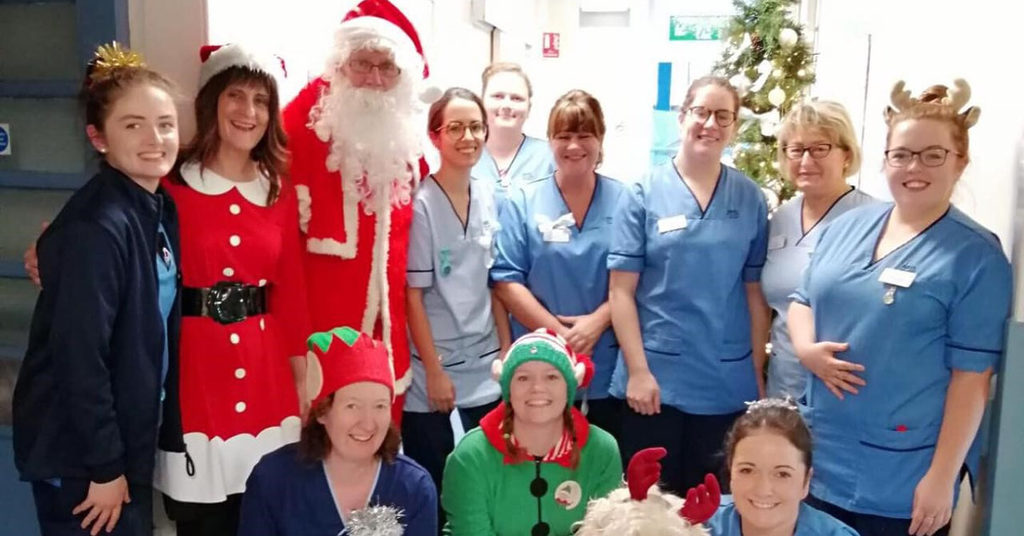 Read more about the difference your donations make to patients at Christmas