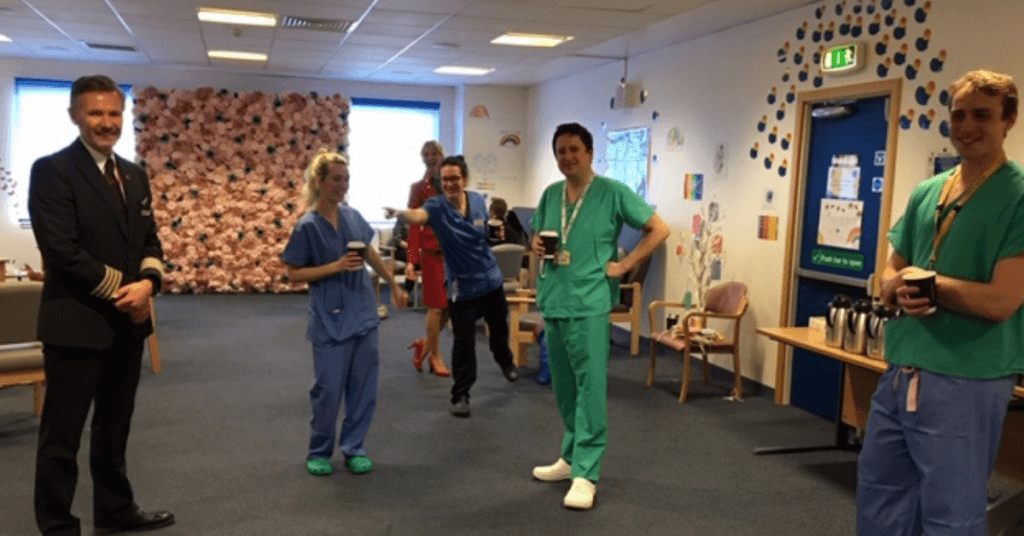 NHS Lothian Staff Are The First In Scotland To Receive The First-Class Treatment As Part Of Project Wingman
Staff at the Royal Infirmary Edinburgh are set to receive the first-class treatment as the latest Project Wingman lounge opens on site.
The facility, which is run by pilots and crew from across every UK airline, will provide a space for staff to unwind, de-compress and de-stress before, during and after their shifts.
The lounge, the first of which to open in Scotland, takes inspiration from the 'first-class lounge' experience and will offer a relaxing and friendly environment where staff can be treated to refreshments such as teas and coffee, as well as light snacks.
The Edinburgh facility is part of a UK wide initiative spearheaded by British Airways pilot and captain Dave Fielding, Emma Henderson, an EasyJet pilot, and Prof Rob Bor, a psychologist at the Royal Free hospital in London.
While a light-hearted nod to the movie Top Gun, the initiative aims to provide support for staff who are busy providing first-class care for patients.
Furloughed, grounded, or made redundant by the COVID-19 crisis, the aircrews involved are all volunteering their time to put a smile on faces, while offering a much needed space for rest and relaxation.
Inga Cosway, Healthy Working Lives Co-ordinator, Royal Infirmary Edinburgh, told us that across NHS Lothian, work has been ongoing to provide a range of facilities and support for staff. This has included the provision of a number of support helplines, as well as quiet spaces for staff to use.
"We are delighted to welcome airline crew to our forces here at the Royal Infirmary. The Project Wingman lounge will provide a welcome space for colleagues to pause, reflect and unwind as together we respond to the COVID-19 pandemic.

"Most of us will never have experienced the luxury of a first-class lounge, but I know that staff are delighted to have this facility available to them and cannot wait to meet the captain and his crew.  We are grateful to NHS Lothian Charity who have provided essential funding to make this happen."
The Edinburgh facility, is being run and managed by Captain Paul Singleton, a pilot with Virgin Atlantic. Paul said that he wanted to give something back to NHS staff after personally seeing the work that they do day in and day out.
"Like many others I wanted to do something to help and support the NHS at this critical time. My son had a major operation at the Royal Hospital for Sick Children in Edinburgh and I cannot thank staff enough for the outstanding care that he received. I was in awe of NHS staff before the COVID-19 crisis hit, but now, more than ever I wanted to express my heartfelt thanks and admiration.

"As aircrew, we are highly trained, well organised & excellent communicators. Using these skills we hope to support every member of staff at the Royal Infirmary, who are working tirelessly as we navigate the uncharted territories that COVID-19 is presenting us with."
Director of NHS Lothian Charity, Jane Ferguson said:
"It's great to see this all coming together. As the official charity of NHS Lothian, NHS Lothian Charity has a key role to play in supporting staff and patient wellbeing during this crisis and beyond, so we were delighted to be able to assist with the setting up of the wellbeing room through our NHS Lothian COVID-19 Rapid Response Fund. It's so important for staff to have somewhere to go to get some well earned downtime. So while they care for patients, it's lovely to see fellow professionals caring for them."
The Project Wingman lounge is available for all staff and is open daily from 7am – 9pm.