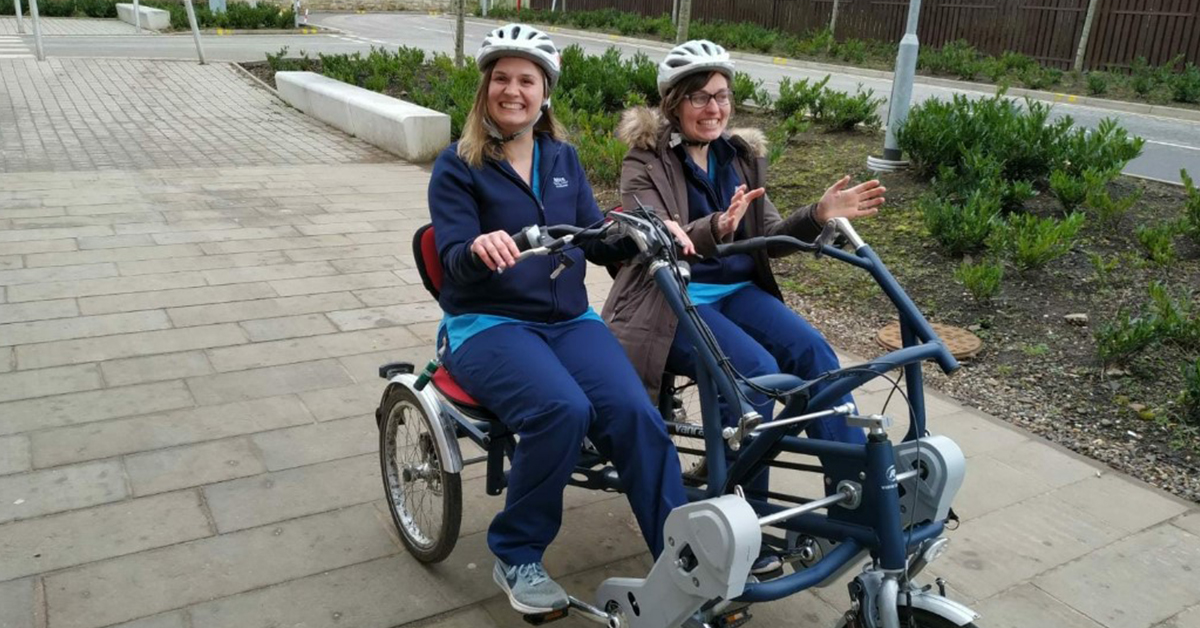 Small Grants
Up to £5,000 available to support patient-centred projects. Deadline for applications: 1 March 2024
Sometimes the smallest change can make the biggest difference to a patient's experience, maybe a relaxing waiting area, better equipment, or activities to improve wellbeing.
Small Grants support projects lasting up to 6 months, that will directly benefit NHS Lothian patients, whether in hospital wards and departments, or in community health services.
How are you going to do it
What patient group will benefit
What difference will it make and how you will monitor/evaluate this
What the costs will be for the project
Who are you working with on your idea
If you are applying for an Arts or Green Health project, please contact our team at least three weeks before you submit your application to discuss it. This is for both activity-based projects or refurbishment/enhancement projects. You can contact the teams by emailing:
Got any questions?
Check our Frequently Asked Questions below, or get in touch with our Grants Manager, Owen Siddalls.
Frequently asked questions
You must be an employee of NHS Lothian or employed by GP practices contracted to NHS Lothian. If you are applying from a GP practice contracted to provide NHS Lothian services please select 'General Medical Services' as your legal status when completing the online application form. Please ensure you have informed your manager about your application prior to submission.
For some projects you may need to work with other NHS Lothian departments and/or a third sector organisation to deliver your project. When preparing your application, plan in some time to discuss the project with those who you require support from and what that support might be, so that if you are awarded funding then all those involved are aware of their role in delivering the project.
The Small Grants programme cannot fund certain costs, such as research costs, salary costs (specifically NHS Lothian or GP Practice employed staff), capital costs or services delivered which are considered to be core provision by either acute services or GP practices.
For training courses, unless the training is related to a specific project idea we cannot fund specific training courses through the Small Grants programme. Funding for training should be secured through other funding streams such as core training budgets or the NHS Lothian run Elsie Inglis awards scheme.
Applications on behalf of individuals (for example hardship grants) cannot be accepted.
Retrospective requests for financial support (for example reimbursement of petty cash) will not be accepted.
Small Grants are awarded four times a year. Upcoming deadlines for applications are:
1st March 2024 – decisions made late March 2024
1st May 2024 – decisions made late May 2024
1st August 2024 – decisions made late August 2024
1st November 2024 – decisions made by late November 2024
Submissions are accepted up to 23:59 on each date above.
You can apply through our online application syste. You will need to provide details on three specific areas in your application; applicant details, project details and project costs.
Specifically, we will be looking for details on the following
What do you want to do?
Why do you want to do it?
What patient group will benefit?
What difference will it make and how will you monitor/evaluate this?
What are the project costs?
Who are you working with on your idea?
Incomplete applications or those that do not provide a cost breakdown cannot be assessed for funding.
Unsuccessful applicants will be provided with feedback around the reasons for not providing funding, which we hope will help to improve any future applications either to NHS Lothian Charity or a different funding body.
We will normally keep in touch with you about applications via e-mail although sometimes it may be useful to have a quick discussion over the phone. You can state in the application form how you want us to contact you.
Eligible applications are reviewed by a small assessment team using an assessment criteria. The team will consider how the project meets our strategic aims, in particular the level of patient benefit.
To enable us to fund as many applications as possible, before the assessment team meet, we will review applications against available specific and ward funds. If an available fund is identified, we will contact the steward of that fund to see if they approve the project to be funded from there. If the Fund Steward decides that the request cannot be supported by the fund, your request will still be considered for Small Grants funding.
If you want to apply for funding to support Patient Christmas, please submit your applications in our autumn funding round – before the application deadline of 1 November. For all Patient Christmas related funding applications, please ensure you include the following on your application form:
Ward Number/Department
What the funding is for, i.e. gifts, food, decorations, tree or other festive related items
Number of patients receiving gifts
Cost per patient
Staff who will pick up the cash
Following the festive period, all completed T&Cs forms, final reports, receipts and unspent cash need to be returned to the respective cashier as soon as possible.
There are two ways to share your application with others prior to submission;
Option 1
Log on to the application form and copy and paste the responses to the questions in section B into an e-mail and send this to co-applicants for review. Log back into the application form to make any suggested changes.
Option 2
On the review screen in the online application form, choose File/Save As and choose file type 'Webpage, complete (*.htm, *.html)', amending the file name and leaving the Encoding as 'Western European (ISO)'. Then choose Revise and Save and Exit.
This will allow you to send the file to co-applicants. The application form can then be amended following any comments by going back to the log in screen.
To do this, go to the  online application system, choose the grant programme you're applying for and log in under 'Retrieve your Application'.
If your application is successful, we will pay awarded funding to either an NHS Lothian cost centre or the GP practice, depending on whether you are an NHS Lothian staff member or work for a non NHS Lothian run GP practice.
If the awarded funds are paid across to NHS Lothian, it is essential that you work within the existing NHS Lothian systems and processes for Procurement.
When preparing your application, and to potentially avoid barriers to delivering the project, please ensure you:
check that you can get what you want from PECOS (and note the relevant supplier name)
are aware of who in your department/team processes PECOS orders
are aware of which NHS Lothian cost centre will receive the awarded funds
are aware who the budget holder and Management Accountant are for that cost centre (key contacts to ensure the right people know what the funds are for and to transfer any unspent funds across accounting financial years)
The above guidance refers to when funds are paid across to NHS Lothian only. If funds are paid directly to a GP practice the existing financial processes/systems for that practice would then apply.
Deadline for applications – 1 March 2024
Here's how some of our grant recipients have used funding