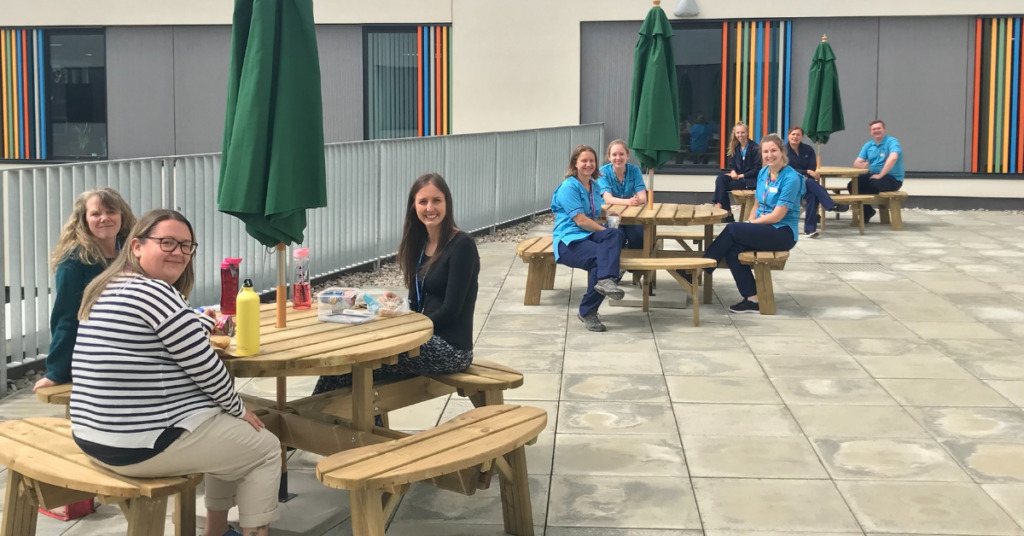 NHS Lothian Charity Supports Outdoor Wellbeing Space For Staff
Staff at East Lothian Community Hospital now have access to an attractive and comfortable outdoor space thanks to charitable funds received from NHS Lothian Charity.
Before the new benches and parasols were installed, staff would either stand during breaks or sit on the ground if they wanted to grab some fresh air. Now, thanks to the funding provided, they have access to a more comfortable and welcoming outdoor space to rest, relax and take some much needed time out from long and busy shifts, while also still being able to adhere to social distancing requirements.
NHS Lothian Charity's Green Health Programme Manager, Ian Mackenzie, said:
"The health benefits of spending time in the fresh air are wide ranging, from helping to reduce stress and fatigue to improving mood and reducing heart rate. In fact, spending just 20 minutes outdoors is enough to spark a positive change. Staff wellbeing is at the heart of everything we do at NHS Lothian Charity, so we were delighted to be able to support East Lothian Community Hospital with their wellbeing project. Making the most of these outdoor spaces is not only important during these times of increased stress and pressure, but is also something from which staff can benefit beyond the pandemic."
Councillor Fiona O'Donnell, Chair of East Lothian Integration Joint Board, said:
"Thank you so much NHS Lothian Charity for supporting this wonderful facility for our hard-working health and social care staff.  Promoting staff health and wellbeing is key to all that we do in the Partnership and the rooftop garden is a fantastic resource for people needing to take a break and reset during the course of the working day. I know that it's much appreciated and our staff based at East Lothian Community Hospital are already making good use of it."
Suzanne Walker, Community Psychiatric Nurse at East Lothian Community Hospital said:
"We are very lucky to have this lovely new building with designated outdoor staff areas and fabulous views over the Lammermuirs. During the COVID-19 restrictions, we thought it was important for staff wellbeing to have some areas within the hospital where they could get away from their clinical area, taking time for some self care on their breaks, especially during the lovely weather we had. Unfortunately there was not enough furniture for all staff to sit and enjoy this so we applied to NHS Lothian Charity and they kindly funded these picnic tables and benches."
Community Clinical Lead Physiotherapist, Victoria Houston, also echoed this sentiment. She said:
"I am so grateful to the Charity for the kind donation of the benches. We are so lucky to have such a beautiful outdoor space at East Lothian Community Hospital, and all the staff are really feeling the benefit of being able to sit comfortably outside during breaks.

"In fact, one staff member commented to me that they had already had a socially distanced team catch up on the benches."
With your help we can continue to provide wellbeing support to NHS Lothian staff when they need it most