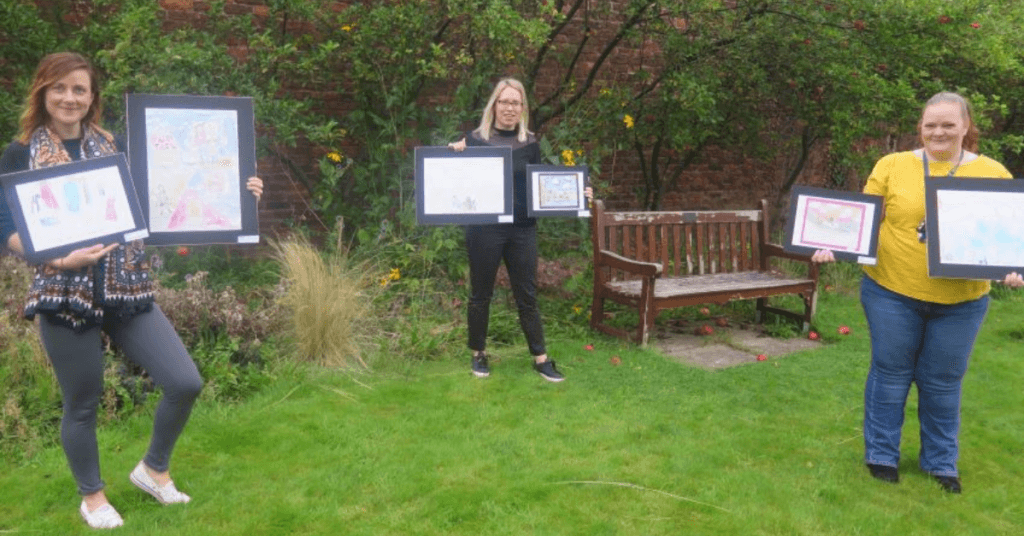 NHS Lothian Charity Supports Midlothian Art Resilience Project
NHS Lothian Charity is delighted to be supporting Midlothian Health and Social Care Partnership with their Art Resilience Project, promoting the resilience of children, young people and the Midlothian community during the Coronavirus pandemic.
The project invited schools across Midlothian from primary 1 to secondary 2 to submit artwork in response to the question: 'what did you do to cope during lockdown?'
The paintings, drawings and written work that were submitted by the schools will now be exhibited from today, 17 September, until 4 October in various locations across Midlothian, including an accessible outdoor walking exhibition at Dalkeith Country Park.
Becky Hilton, Public Health Practitioner at Midlothian Health and Social Care Partnership led the project. She said:
"I think it's important to acknowledge the impact of a major life-changing event like COVID-19 on kids and their emotional wellbeing. We wanted to do something that would encourage them to explore and share what they did to build and maintain their resilience during the Coronavirus pandemic. I also wanted to promote things that are within people's control and which can make a difference to their emotions and wellbeing, especially at a time when anxiety and worry is high. This project seemed the ideal way to do that whilst also celebrating the creative talents of the children and young people of Midlothian.

"Displaying these amazing artworks across the community also allows others to reflect on their own resilience and ways of coping during lockdown, as well as providing signposting to where they can get additional support if needed.

"We applied for funding through NHS Lothian Charity for digitising, printing and mounting costs for the indoor and outdoor exhibitions and what we got was so much more than purely funding. The charity's Tonic Arts programme team have been so helpful, providing advice and guidance on curating the exhibition, and the Grants Manager has been on hand throughout the project to provide ongoing support. That has been invaluable in getting us to this point.

"As well as working closely with NHS Lothian Charity, we also involved a wide range of partners who were crucial to bringing this ambitious project to life, including representatives from Communities and Lifelong Learning, Educational Psychology, Children's Services and our Communications Teams.

"I hope everyone enjoys seeing the exhibition as much as I have enjoyed pulling it all together."
Angela Gray, NHS Lothian Charity's Tonic Arts Participatory and Engagement Manager, said:
"We were delighted to support Becky and Midlothian Health and Social Care Partnership with their project, both with funding through our COVID-19 Response Fund and with the curation of the exhibitions.

"Supporting the improvement of health and wellbeing is at the core of everything we do at the charity. The Tonic Arts programme is an essential part of this, delivering the benefits of arts in healthcare for the whole of the NHS Lothian community.

"This brilliant, collaborative project is a great example of how the arts can boost our wellbeing, helping children and young people tell their unique stories in a colourful and uplifting way. The exhibition includes an amazing range of artworks and for the young artists seeing their work on display in places like Dalkieth Country Park will be a real source of pride. I'm really looking forward to seeing the artworks on display across Midlothian."
The community-based exhibitions will run from 17 September until 4 October across Midlothian in Bonnyrigg, Dalkeith, Danderhall, Penicuik, Loanhead & Straiton, Mayfield, Newtongrange, Gorebridge, and Roslin.  These will be in Dalkeith Country Park, local businesses and community buildings, including council buildings. There will also be an online exhibition hosted on the Midlothian Council website: www.midlothian.gov.uk/resilience
Everyone across Midlothian will have the opportunity to take part in the project by sharing their responses, or their own artwork, on social media by using the hashtag #resilientmidlothian.
Donate today
Support NHS Lothian patients and staff