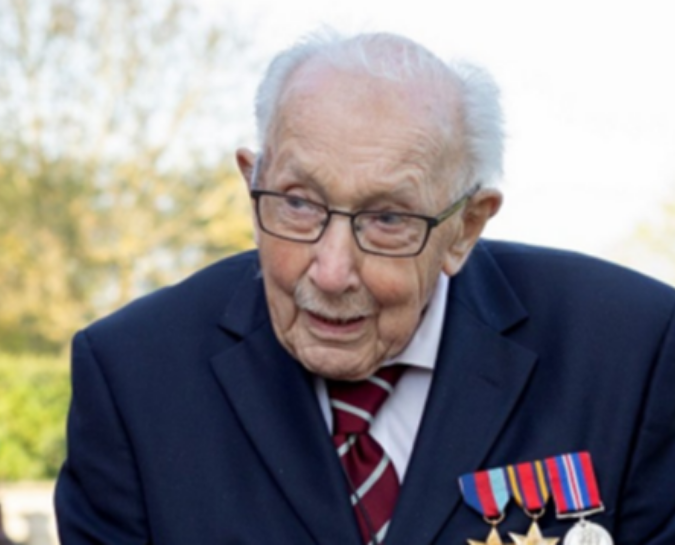 Our Tribute To Captain Sir Tom Moore
Our thoughts are with the family and friends of Captain Sir Tom Moore ahead of his funeral tomorrow.
We will be forever grateful for the millions he raised for NHS Charities Together and we wanted to pay tribute to him by sharing some of the amazing projects that he and other fundraisers across the country have helped support.
At the beginning of this month the UK mourned the loss of Captain Sir Tom Moore, who raised £32.8m for NHS Charities Together by walking 100 laps of his garden before his 100th birthday – breaking the Guinness World Record for an individual's charity walk and inspiring a nation.
As one of the 241 member NHS charities across the country, NHS Lothian Charity received grant funding of over £950,000 from NHS Charities Together to support NHS Lothian staff and patients as part of our COVID response. As well as this, we also raised an additional £550,000 through our own COVID-19 Appeal thanks to generous donations from local supporters.
The overwhelming support of the public across the whole of the UK, has meant we were able to provide a fast and flexible response to the immediate needs of staff and patients as they dealt with the biggest global health crisis of our lifetimes, including tablets and mobile phones to allow patients who felt isolated as a result of visiting restrictions to still keep in touch with loved ones, the provision of pop up wellbeing rooms so that staff who were working long and busy shifts had a place to go to get some much needed rest, relaxation and downtime, hotel accommodation costs for staff who were self-isolating to keep vulnerable family members safe, art and activity packs to help reduce patient anxiety, depression and boredom, especially while visiting restrictions were in place, and so much more.
Jane Ferguson, Director, NHS Lothian Charity said:
"We are so grateful to Captain Sir Tom Moore and everyone across the UK who has supported NHS charities during the past year. Every single person who either set up a fundraising challenge or donated to our local or national appeal, has made a real difference both to staff members who have worked tirelessly to keep us all safe, as well as to patients who were isolated from loved ones due to visiting restrictions.

"As the official charity of NHS Lothian, we are continuing to work together to identify and provide ongoing support to help address the long-term effects of COVID on the physical and psychological wellbeing of staff and patients, and help rebuild their resilience as we move into recovery and the post-pandemic phase. Thanks to Captain Sir Tom Moore and all our amazing supporters, we have been able to take forward larger, long-term projects, above and beyond our initial emergency response, such as establishing permanent staff wellbeing spaces on every NHS Lothian site, funding the provision of psychological therapy support for all staff, and enhancing hospital to home patient support. The support from NHS charities like us will be crucial in the years ahead as the health service recovers from the most challenging period in its history and we couldn't do it without people like Captain Sir Tom Moore and all those who he inspired."
Ellie Orton, Chief Executive for NHS Charities Together, said:
"Captain Sir Tom Moore was a complete inspiration to us all and his memory lives on through the incredible programmes NHS charities have been able to fund. Thanks to his efforts, funds have reached the length and breadth of the UK through every one of our 241 member charities, and they have made a huge difference on the ground, both to address the immediate needs of patients and staff and to support the longer-term recovery of the NHS. His legacy will live on through the work of the Captain Tom Foundation."
Donate today
Support NHS Lothian patients and staff