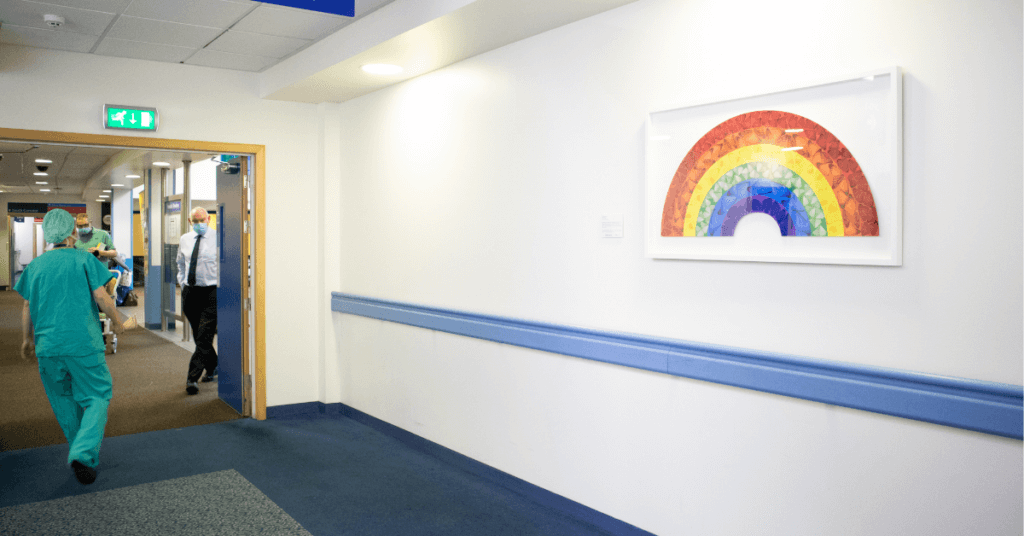 World-Famous Artist Damien Hirst Says Thank You To NHS Staff With Stunning Butterfly Rainbow Print
Damien Hirst gifts 'Butterfly Rainbow' print to NHS Trusts and Boards across the country to say thank you to NHS staff.
In May 2020, Damien Hirst created 'Butterfly Rainbow' to show support for the NHS during the Coronavirus crisis. The stunning work is made up of bands of coloured butterfly wings, one of his best-known motifs. All profits from sales of the limited edition artwork, a total of £1,508,172, were donated to NHS Charities Together, the organisation that supports official NHS charities working across the UK. 70 of the limited edition prints were then also sent to NHS Trusts and Health Boards across the country to display.
NHS Lothian Charity received the print on behalf of NHS Lothian. A very welcome addition to their Tonic Arts art collection.
This special inspirational artwork is now on display in the north corridor at the Royal Infirmary of Edinburgh for patients, staff and visitors to enjoy.
"I wanted to do something to support the many people who are risking their lives to help those in need during this time of crisis. The rainbow is a sign of hope, and I'm so pleased to have released these prints to help fund the brilliant work being done by NHS staff across the country."
Susan Grant, Tonic Arts Manager at NHS Lothian Charity said:
"As the official charity of NHS Lothian, we were delighted to have been selected to receive a limited edition 'Butterfly Rainbow' print created by internationally-renowned artist Damien Hirst. It is such a beautiful tribute to the hard work and endurance of the amazing NHS Lothian staff during the COVID-19 pandemic.

"It is wonderful to see artists like Damien Hirst supporting NHS staff and patients at such an important time. It is also a tribute to the important role that the arts play in supporting wellbeing, providing inspiration and enjoyment, as well as brightening up clinical environments."

"Bringing the transformative power of the arts to staff, patients and visitors is at the heart of everything we do in our Tonic Arts programme. Whether that be through making our high-quality art collection more accessible to the public, supporting large-scale art and therapeutic design commissions, or leading a dynamic participatory arts programme, everything we do is about enhancing their experiences at NHS Lothian."
Donate today
Support NHS Lothian patients and staff