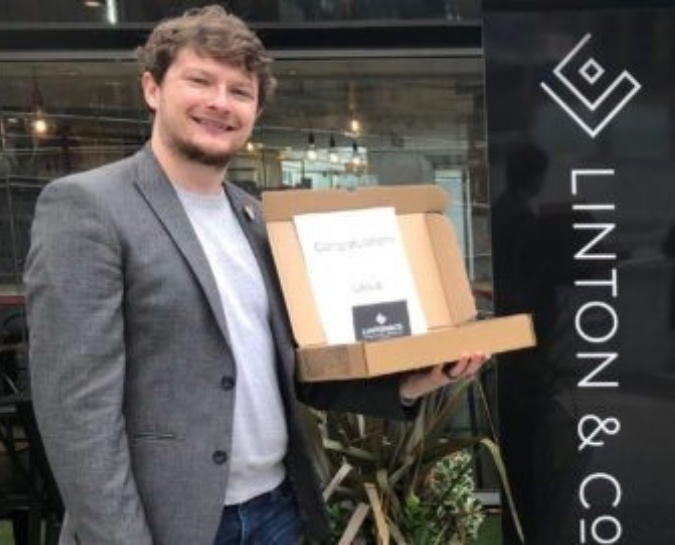 Brownie Points For The NHS
NHS Lothian project manager wins competition to design new luxury brownie flavour for Linton & Co.
NHS Lothian project manager, Lewis Edwards, has won a competition launched by local specialist brownie retailer, Linton & Co. to invent a new luxury flavour for their menu.
Linton & Co. launched the competition for NHS staff in September to show support for their ongoing dedication and tireless efforts during these challenging times. 10% of the sale of each of the winning brownie will also be donated to NHS Lothian Charity to support patients and staff across the whole region.
The competition saw over one hundred NHS Lothian staff put forward their ideas and owner, Lara Wilson, was spoilt for choice when picking the winner. Lara loved Lewis' suggestion of doing a brownie in the colours of the NHS with blueberry cheesecake swirls handcrafted on top.
This competition is just one in a series of activities that Linton & Co. has undertaken to support the NHS. At the peak of the pandemic, the retailer wanted to do something special for NHS staff who were working round the clock to care for others, and delivered free brownies to help boost morale and let them know that others were thinking of them. They also got behind the annual NHS Big Tea celebrations by donating luxury chocolate brownies for staff to enjoy on their breaks.
Lara Wilson, Owner of Linton & Co. said:
"After the difficult year that we have all faced we wanted to do something to show our support and appreciation of the NHS who have worked tirelessly throughout.

"We loved reading all the suggestions that NHS Lothian staff sent in. Lewis' flavour really stood out to us with the blue and white colours symbolising the colours of the NHS."
Talking about what inspired him to enter the competition, winner, Lewis Edwards, said:
"One positive outcome of the pandemic has been a real growth in community spirit, and small businesses have been pivotal in instilling support for the NHS across the country. Designing a new brownie flavour for Linton & Co. to create definitely appealed to my sweet tooth, and to hear my flavour had been chosen was a wonderful surprise! I'm really thankful to everyone at Linton & Co. for their support, and I hope everyone enjoys the brownie, especially knowing a portion of the proceeds are going towards NHS Lothian Charity."
Tu Edwards, Community and Events Fundraiser at NHS Lothian Charity, said:
"On behalf of our NHS Lothian colleagues and patients, I'd like to say a big thanks to Lara and Linton & Co. for their continued kindness and generosity. Congratulations to Lewis too for suggesting the winning flavour, I can't wait to taste it. The money raised will help us invest in exciting projects that will push patient care even further, from supporting breakthroughs in research and providing new technology that could change lives to supporting the wellbeing of staff and patients and making hospitals more comfortable, welcoming spaces."
The brownie will be available to purchase at Linton & Co store on the rooftop of Waverley Mall, at their hub at the Royal Mile and online at https://www.lintonandco.com/
Donate today
Support NHS Lothian patients and staff