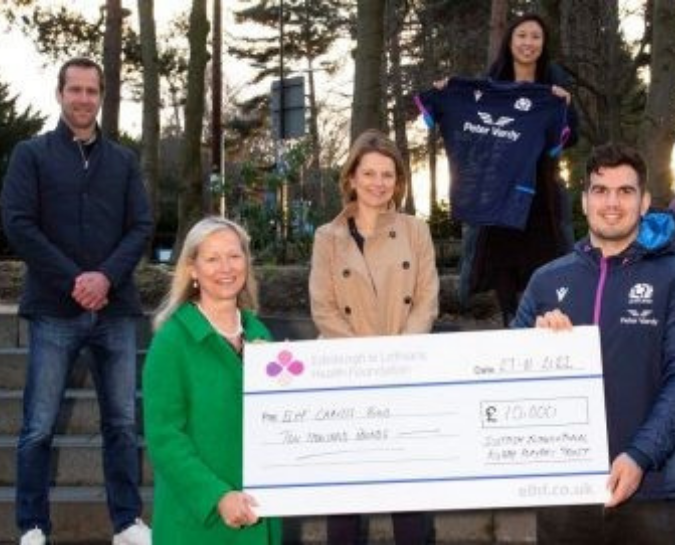 Scotland Rugby Team Makes Donation To NHS Lothian Charity
As the Scotland team prepare for the start of the 2022 Six Nations Championship this weekend, the players are making a £10,000 donation to NHS Lothian Charity to show their appreciation to fans for the support they received throughout the pandemic.
"Playing without crowds in last year's championship was a surreal experience but it underlined to us how privileged we were to be able to continue to represent the millions of Scotland supporters around the world," said Scotland captain Stuart Hogg today.
His team-mate, Scotland and Edinburgh Rugby hooker, Stuart McInally, said:
"We were lucky still to be able to do our job, whereas countless of our supporters have had to endure real hardship.

"The pandemic didn't discriminate, of course, but we know from our own families and friends that the last 22 months have been so tough for so many.

"Happily, restrictions are now easing, hopefully for good, and we can't wait to return to BT Murrayfield and, just as we were able to during the Autumn Tests, play again in front of the most passionate and loyal supporters in another full house, starting with the Calcutta Cup on Saturday (5 Feb).

"But as players we also wanted to give something back and we decided to make this donation to support the fantastic work that is being done in helping young people, often when they are at their most vulnerable."
£10,000 is being donated through the Scottish International Rugby Players' Trust, to support NHS Lothian Charity's Child & Adolescent Mental Health Service Fund. This donation will help the Children and Adolescent Mental Health Services – CAMHS go over and above what NHS Lothian can provide alone, such as specialist equipment, research or new resources to enable schools and other care givers to provide the right mental health support to children and young people earlier on.
Stuart McInally, who is Trust chairman, went on:
"Being part of a team sport, we are actively encouraged to look out for each other and even though we play a physically very demanding sport that does not make us invincible to the challenges that can affect mental wellbeing.

"If our donation can help CAMHS provide support for a young person in their time of need then it's an extension of our team ethos to our fellow countrymen and women."
Cathy Richards, Clinical Lead/ Head of Psychology, at the Royal Edinburgh Hospital, welcomed the donation. She said:
"A heartfelt thanks to the Scotland rugby players. This gift will allow us to meet the ever-changing needs of children and young people by helping to enhance our services.

"Through different projects, such as outreach in our communities, we will be able to raise awareness about early signs of mental health issues, help young people feel less alone and isolated, and provide new and fun experiences."
Gill Kidd, CAMHS Consultant Clinical Psychologist CAMHS Intellectual Disability Team said:
"We are most grateful to the players for this contribution to CAMHS. This will really make a difference and help young people and their families when they are at their most vulnerable."
Donate today
Support NHS Lothian patients and staff