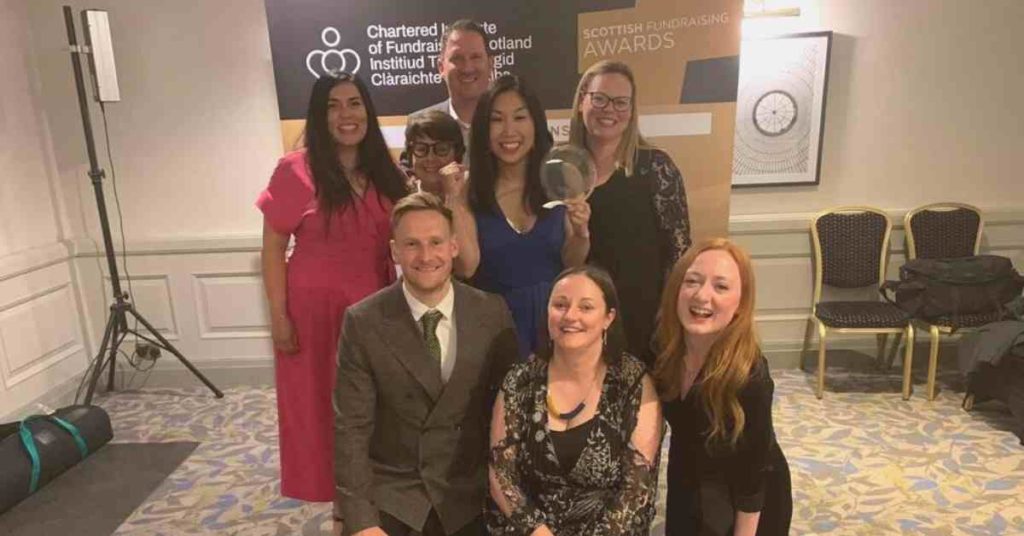 NHS Lothian Charity and Hibernian Football Club win prestigious fundraising award
NHS Lothian Charity (formerly Edinburgh & Lothians Health Foundation) last night picked up an award at the Chartered Institute of Fundraising Scotland Annual Awards for their partnership with Hibernian Football Club during the pandemic.
In the welcome address, the award ceremony was referred to as 'the Oscars of Fundraising'. The awards recognise excellence in fundraising across the sector, with the Best Partner Relationship Corporate award recognising innovative and ground-breaking partnerships between a charity and a business, trust or major donor.
The NHS Lothian Charity/Hibernian Football Club partnership was forged in April 2020, shortly after the outbreak of the Coronavirus pandemic, with the Club showing appreciation for NHS staff with the launch of their 'Thank you NHS' strip. The Club decided to take the opportunity to express the thanks of the entire Hibernian football community to the magnificent health service for the heroic, selfless and dedicated efforts of its staff during the coronavirus pandemic using their biggest asset. Fans could opt to have the 'Thank You NHS' transfer added to replica home and away strips, with the £5 cost of the application of the transfer donated to NHS Lothian Charity.
Fans could also donate money to have cardboard cut outs of themselves in the empty stands while football was being played behind closed doors, and a donation was made from Hibernian facemasks.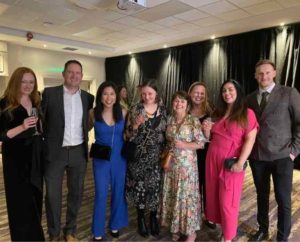 Together, the two organisations also created bespoke fundraising events to encourage fans to get involved and raise money to support the emotional and physical wellbeing of NHS staff. From a Keepie Uppie Challenge, where fans were challenged to do as many keepie uppies as the number of seats in the Easter Road Stadium, to a Fitba' Challenge, where fans ran the same distance as their favourite player covered during a match, the Hibs community continued to get behind the Club and the Charity and raise money to support NHS Lothian.
Further fundraising initiatives were taken forward such as a festive 'Tree of Lights' appeal where fans could leave a message for a loved one, NHS heroes and frontline workers whilst making a donation to the Charity, and a specially produced limited-edition version of 'Sunshine on Leith' by the Proclaimers, with £6 donated from the sale of each single going to the Charity. The Club continued to pull out all the stops welcoming hundreds of NHS Lothian staff to the stadium for an NHS themed match day on 4 December 2021.
Tumong Edwards, Community and Events Fundraiser at NHS Lothian Charity, said:
"I am delighted that the hard work and dedication of the Club and their fans has been recognised with this award.

"We are extremely grateful to Hibernian Football Club and their amazing fans for all their support. Our NHS Heroes have worked and continue to work under huge pressure, caring for patients in our hospitals and communities as we make strides to learn to live with COVID. It is thanks to partnerships with people like Hibernian Football Club and their fans that we have been able to provide crucial, additional health and wellbeing support for NHS Lothian staff during such a challenging time. The fundraising activities that the Club undertook have contributed to larger, longer-term projects that have been put in place which will have a more profound and lasting impact on the resilience of staff and their ability to bounce back from this global health crisis.

"What a pleasure to have been able to celebrate this amazing partnership with an award win."
Hibernian FC's Commercial Director Greg McEwan added:
"It's been an absolute pleasure working with the NHS Lothian Charity and this award is the icing on the cake for what has been a fantastic partnership.

"Everyone involved worked incredibly hard to bring various initiatives to fruition and to raise a significant five-figure sum for the charity. A lot of credit also has to go to our supporters as well for the way they supported the Club and NHS Lothian in what was a really difficult time for everyone.

"This award is certainly something that everyone involved with the Club – supporters, staff, players – can all be extremely proud of."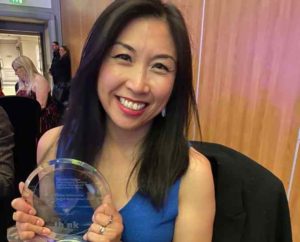 The partnership raised £43,619 to support NHS Lothian through its official charity, and is already benefitting staff, helping to fund things such as staff wellbeing spaces, additional psychological support and listening services, and a wellbeing strategy to support the ongoing physical and mental health needs of staff. These initiatives have proven to be an enormous help to NHS staff who are still dealing with the emotional trauma of the pandemic.
One of the NHS Lothian team who has benefitted from the funding provided through the Charity to support the setting up of staff wellbeing spaces and free foot massages, is Laura Thomson, Quality and Safety Improvement Manager at the Western General Hospital, Edinburgh. She said:
"You know when you're going really, really quickly and you're running from one thing to another? To be able to use your break to go to the Wellbeing Hub or get a foot massage from the complimentary therapists was great – just to ground you and make you take a moment to stop and pause and relax – I actually felt lighter on my feet afterwards. Both myself and my colleagues want to thank everyone who has supported us so far and who continues to support us during these difficult times. It really means a lot."