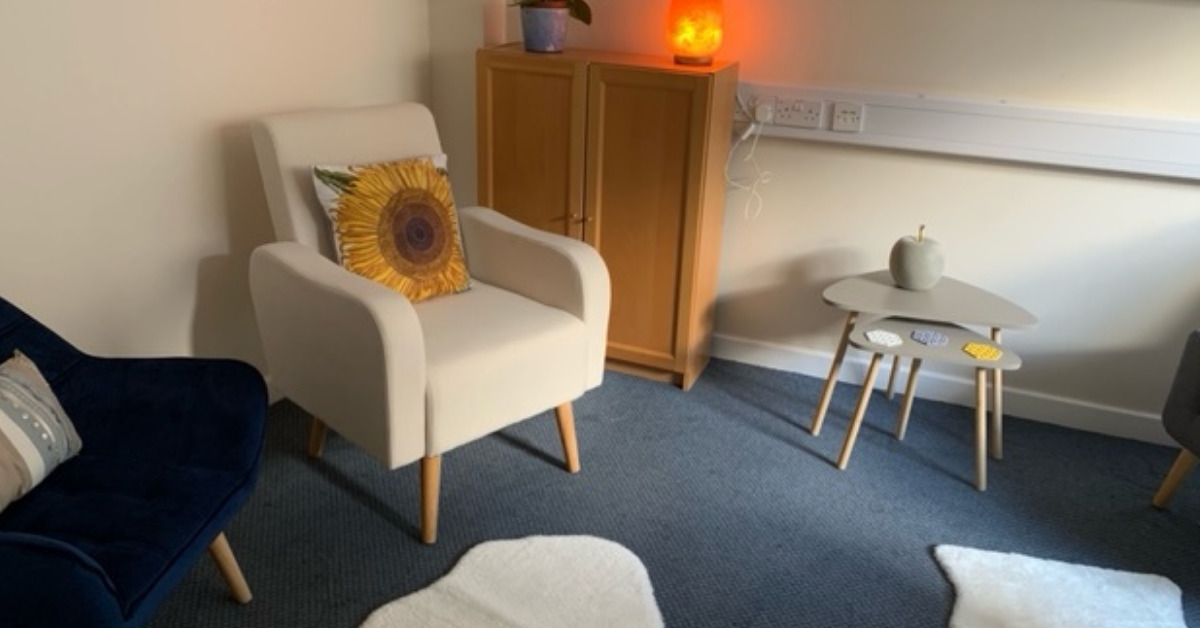 What is a wellbeing space?
We all know that work can be stressful, especially at this time as you deal with one of the biggest global health challenges of our lifetime. Often you are so busy looking after the needs of your patients, that you put your own needs second. But it is vital that you take some time to take care of yourself!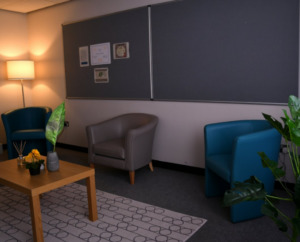 You may have seen that we have secured funding to support you to set up permanent wellbeing spaces at your place of work so that you have somewhere to go, away from your normal work environment, to rest, relax and recharge.
Since the launch of this project, we've received a lot of questions looking for further advice and guidance – particularly for indoor spaces. We have therefore put together a few hints and tips about how you can make the most of the funding available for your site and make the space your own!
Firstly, Wellbeing Spaces should be open to all and somewhere where people feel safe, secure, and free from pressure or judgment.

Try and find a discrete, out-of-the-way location so that it feels separate from the work environment.

Size-wise, try and aim for a room no smaller than 9'×9′, and make sure it can comfortably accommodate the furniture you choose for the space without it feeling cramped and overcrowded.

Take some time to carefully consider how you want the space to look as this can ensure that you and your colleagues get the most benefit from your wellbeing space.

Wellbeing spaces are for both physical and mental health, so it's important that they are easy to clean and can be kept sterile while still inspiring calm and comfort. Ensure that all surfaces can be wiped down and that smaller items can be disposed of and replaced to promote cleanliness. Choose laminates surfaces and polyurethane upholsteries that deviate from clinical and hospital-like looks without sacrificing function.

Have a think about the colours of the walls and furnishings; calm, relaxing colour palettes can help reduce feelings of stress and anxiety. Neutral tones that aren't too dark and aren't too light should be used; a taupe or bluish-grey is ideal. Avoid yellows and greens, as they can make people feel queasy, and red, as it inspires anger and increased energy.

As a minimum, every wellbeing space should include a recliner, however an ideal space would ideally include a longer sofa or bench that allows staff to lie down.

A simple end table or coffee table will suffice, providing space for a glass of water or health and wellness-focused magazines that can be easily replaced as they become weathered and germ-filled.

Indirect lighting sources are key and being able to have total control of lighting is incredibly important. Try and choose upward-facing light fixtures or gentle lamps for as-needed lighting with every source controlled by dimmer switches where possible.

Have a think about adding artwork to set the tone of the space – but keep it simple, serene, and relaxing.

Provide amenities, where possible, such as a kettle or a microwave, and consider the many small things that can make a difference whilst relaxing.

And finally, we know that space is often hard to find, but it's important that the space you choose is somewhere permanent and not a temporary unused conference room or a spare office with old desks and chairs in the corner. And if there isn't space indoors, what about a space outdoors? The important thing is to make it somewhere you're proud of and want to spend time in.
We are looking forward to reading through all of your ideas.
From the Work Well team in partnership with NHS Lothian Charity