7 June 2022
Enhancing NHS Lothian's Mental Health Support for Health and Care Staff During COVID-19
Thanks to donations to our NHS Lothian COVID-19 Appeal and grants from NHS Charities Together, we have helped to enhance psychological services for staff across NHS Lothian.
COVID-19 put additional strain on staff working across health and social care, with the number of hours lost due to absence with stress and mental health issues increasing during the pandemic. Helplines were set up across all Health Boards, including NHS Lothian, to ensure staff were appropriately cared for during these difficult times. However, it was quickly recognised that this support needed to be further increased as staff became more and more exposed to long and distressing experiences as a result of COVID-19.
Thanks to generous donations from our community of supporters to our NHS Lothian COVID-19 appeal and additional funding from NHS Charities Together, we were able to support NHS Lothian to enhance the measures they had put in place. Working with the Occupational Health team to understand what was required to further support staff wellbeing during these difficult times, we invested £400,000 from our COVID-19 Response Fund to provide a range of psychological treatment pathways for NHS Lothian staff and give them the best care possible when they needed it most.
Putting in Place Proactive and Reactive Psychological Interventions to Care for Staff
It was important to ensure that the psychological needs of staff were addressed at an early stage, providing preventative and early interventions to support positive wellbeing and mitigate the mental health impact of the pandemic on staff going forward.
Additional interventions depended on the needs of the staff member; ranging from psychological first aid for those experiencing mild to moderate mental health problems to formal psychological therapy for those experiencing more severe or chronic mental health problems.
Training was also put in place for line managers across NHS Lothian to raise awareness of the different ways that psychological illness can present itself and familiarise them with the support mechanisms available to their staff. Training was delivered to all managers across the region to promote a proactive and holistic approach to psychological care for all staff. This included Psychological 1st Aid, Resilience Building and Positive Wellbeing.
Improving Mental Health Across NHS Lothian
For staff to deliver excellent patient care, they need to be healthy, at work and stay healthy at work. In order to achieve this, appropriate support systems need to be in place. As NHS Lothian staff dealt with one of the biggest global health crises of our lifetimes, additional measures were required beyond standard provision to support their mental wellbeing and resilience.
As a result of the additional psychological interventions that were put in place to support staff, they have been able to access timely and effective psychological treatment which has improved their mental health.
Feedback from the 306 staff who had contact with the psychological service in the first 6 months indicated that:
93%
were extremely satisfied with the psychological support service
73%
were extremely satisfied with the time taken to receive psychological support
80%
described the service as having definitely improved their wellbeing
93%
would definitely recommend the service to a friend
There has also been a significant improvement in psychological distress from pre to post treatment, with 73% of those who have completed psychological treatment having reduced from severe/moderate levels of distress to normal or mild levels of distress.
Another key measure was increasing access to effective psychological treatment to support staff to return to work. Of the 27 staff who were off work on starting psychological treatment, 20 had returned to work post treatment.
I am so grateful that this service exists. I was directed to it when I was unwell and unable to work, and Corinna's help has got me not just back to work but thriving."
The 3-4 month waiting list in occupational health to see counsellors has also reduced to 7 weeks. Shorter waiting times are shown to have a more positive effect on mental health outcomes, which has a positive impact on both staff health and patient care.
I was apprehensive at first about asking for help from this service, but it has been the best thing I have ever done for myself. I thought it would be a scary experience and I would be waiting for a long time for an appointment, but it was the opposite."
The training delivered as part of the enhanced support has helped line managers to have the knowledge and confidence to effectively support team members in distress.
88%
described the training session as either very or extremely helpful
93%
indicated the training was relevant to their current role
I have learned how to pick up on behaviours or signs within my team that indicate that people are struggling."
The longer-term mental health impact of the pandemic is not yet clear, but by putting early measures in place, we are already seeing a positive improvement in mental health, helping our NHS Heroes stay healthy and able to continue to provide exceptional patient care.
We know our NHS staff are under strain and this service is helping to keep our people on their feet, stopping staff who are experiencing psychological or emotional difficulty from falling through the cracks and having to wait months before seeing any progress or treatment. As indicated from our surveys, this project is also helping staff to return to work more quickly and with the right support in place.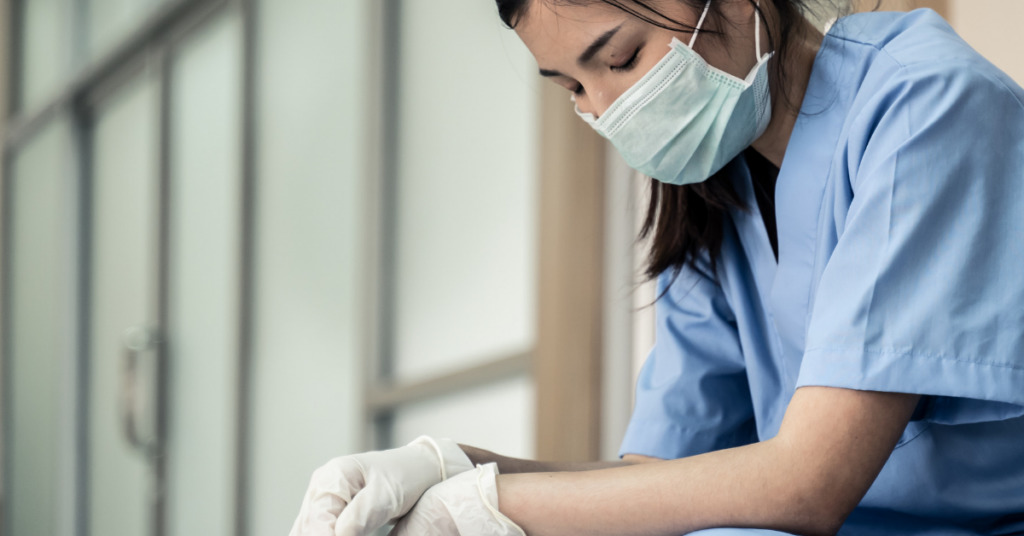 With your help we can continue to support the wellbeing of staff across NHS Lothian