18 May 2022
Supporting Patients Through Virtual Visiting
During these unprecedented times, more and more people are using mobile phones to stay in touch with family and friends.
But what happens if you are in hospital with no phone and no way to connect with family and friends as visiting hours have been suspended.
Staff in wards across Edinburgh and Lothians have been looking at ways to keep patients connected to loved ones while they are in isolation and working with us to see how we can support.Thanks to the generosity of our donors and fundraisers, and grants received from NHS Charities Together, we have been able to provide phones and tablets to a number of wards across NHS Lothian to help patients keep in contact with family and friends and keep their spirits up.
Clinical Service Manager at the Western General Hospital, Nicola McCloskey-Sellar said:
"I think we all expect that everybody will have a mobile phone and ways and means of keeping in touch with family. Unfortunately as one of our Consultants pointed out, this isn't always the case, and with visiting suspended due to COVID-19, we wanted to provide patients with tools to keep in touch with loved ones.
"Virtual visiting was an idea that our Nurse Director, Geraldine, came up with. We are so pleased that we have been able to support those patients who wouldn't get to see their friends and family, by providing phones and tablets for them to use.
"We have provided top up cards for the mobile phones so that patients can keep in touch with family and there are a number of tablets being provided to each of the specialties on site to allow face to face calling. This has been so appreciated and allows patients to keep those vital connections with their family and friends. Luckily many areas across the hospital now have WiFi thanks to NHS Lothian Charity, which enables the tablets to run.
"Being able to access funding through NHS Lothian Covid-19 Appeal has made this all possible. It's great to see so many people coming together to support the fundraising campaign and we are so grateful for the donations. It means the world to both the patients and the staff."
Tablets and phones are being used throughout other NHS Lothian hospitals during this time and are proving to be a great success. The husband of a patient, who has a diagnosis of dementia, was given a tablet to use and had this to say:
"It was wonderful to see my wife again. It is so good of you doing this."
One other patient who was able to speak to family members for the first time since visiting was suspended said this when asked by staff how she was: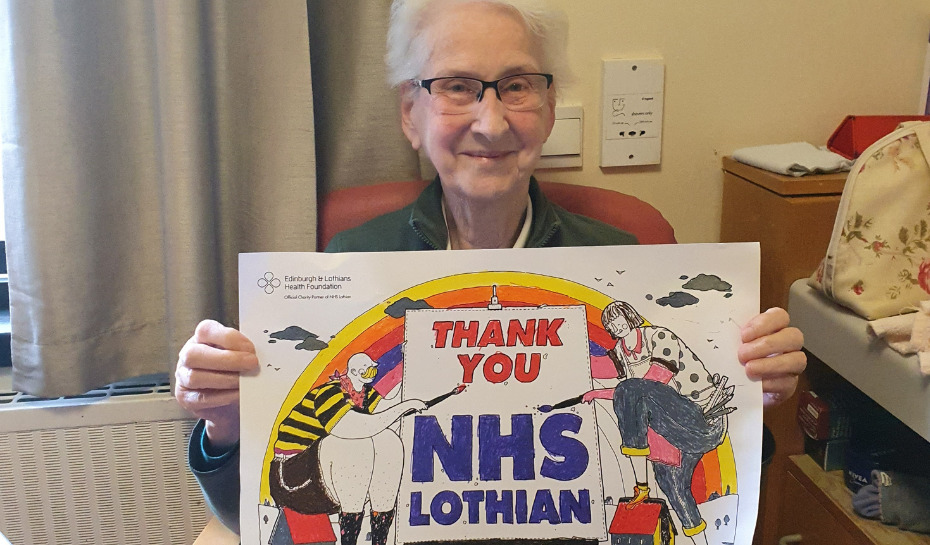 With your continued support we can do even more to help patients now and in the future