19 May 2022
Supporting The Equalities Networks Through A Programme Of Creative Engagements
Thanks to our fantastic donors and grants received from NHS Charities Together, we have been able to fund this amazing 360 Visions project to develop a range of equalities, diversity and inclusion training resources for use by the Equalities Networks across NHS Lothian.
This will be done through a creative programme of theatre, storytelling and filmmaking to understand NHS Lothian staff experiences of the COVID-19 pandemic from an equalities perspective, exploring the multi-faceted challenges faced by BME, Disabled and LGBTQ+ and Youth staff members.
It will provide a platform for diverse viewpoints as well as celebrating the incredible work and diversity of the NHS.
Angela Gray, Arts Participation and Engagement Manager in our Tonic Arts team explains more:
"The 360 Visions project offers an opportunity for NHS Lothian Charity Tonic Arts team to work with the NHS Lothian Equalities networks for the first time. This is an exciting collaboration that combines the creative skills of the arts team with the expertise of the Equalities Networks. This project involves the creation of a short film with BME staff members telling their stories of COVID-19 as well as theatre makers and a musician developing training resources to raise awareness of the challenges affecting BME, LGBTQ+, Disabled and Young members of staff in these difficult times. The NHS Lothian BME staff film will be shared as part of a screening event to celebrate the diversity of NHS Lothian.

"Thanks so much to everyone who has made this possible."
The first staff session took place recently with 12 participants from the NHS Lothian Equalities Networks and the three artists who are leading the project. It included icebreakers, lively discussions and creative activities, giving everyone the opportunity to get to know each other.
The artists worked their creative magic, making this a really engaging session. The shots below show everyone learning some sign language with Petre Dobre (who is deaf) and the BSL Interpreter Karen Forbes displaying the BSL sign for 'COOL' – one hand makes the 'C', people's eyes make the double 'OO' and the last hand makes the 'L'.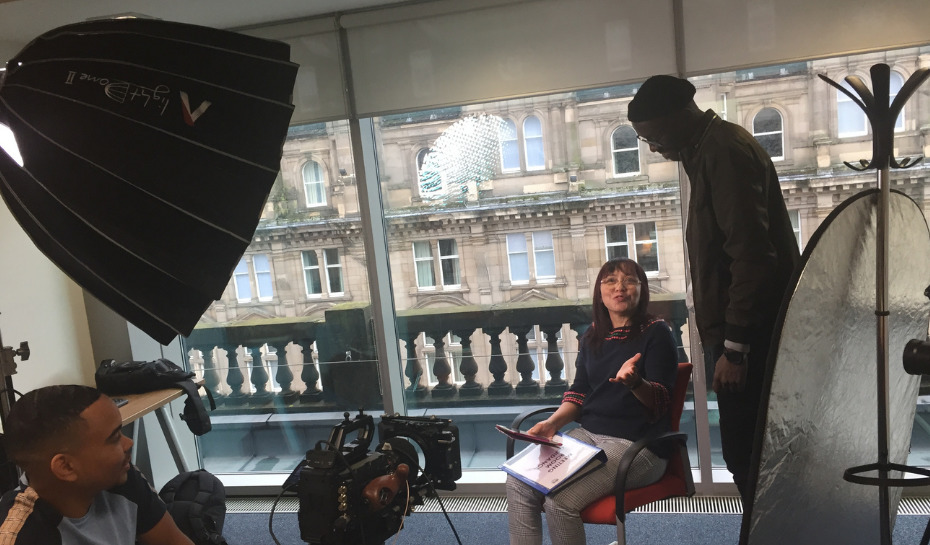 With your continued support we can do even more.