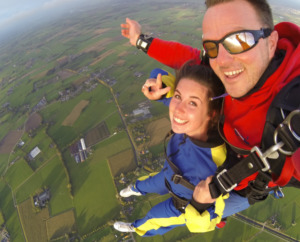 We are thrilled to be working with Skydive St Andrews to bring you two dates for tandem skydives on weekends throughout the year. If you're a thrillseeker looking for your next challenge sign up today!
Exiting the aircraft from up to 10,000ft above the ground, you'll experience approximately 30 seconds of free-fall – diving through the air at up to 120 miles per hour – before the instructor deploys the parachute at around 5,000ft.
From above our drop zone there are great views over the Firth of Forth, Edinburgh, and Fife – on a good day you will also be able to see the southern Highlands in Perthshire.
Register for your challenge of a lifetime!