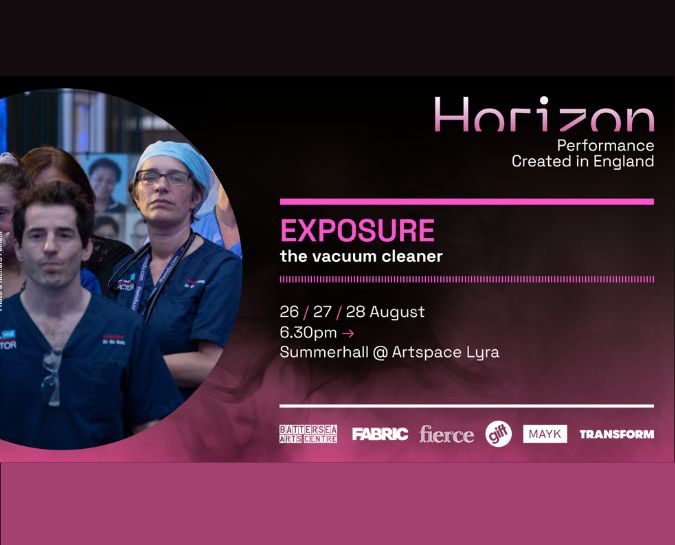 Exposure
the vacuum cleaner presents Exposure
Thurs 25th, Friday 26th & Saturday 27th August
19:00 – 21:30
*THIS OFFER HAS NOW ENDED*
NHS Lothian Charity is thrilled to be working with The Edinburgh Fringe to bring NHS Lothian staff a limited number of free tickets for EXPOSURE, by the vacuum cleaner. Tickets will be entered into a draw and randomly selected. Entry is opened from 27th July – 4th August.
In autumn of 2020, the vacuum cleaner invited 47 Newham health workers into his artist studio and filmed conversations with them about their experiences of the Covid 19 pandemic.
Frank and tender conversations bring into focus the complexity of each health professional's experiences; the challenges they faced and the compromises forced upon them.
Their stories reveal moral struggles resulting in mental health challenges and frustrations and how this compares to the official narrative of 'heroes'. They speak of resilience, peer support, and hopes for the community they serve.
Join the vacuum cleaner and Sascha Gilmour in an evening of film, live installation and sound remembering the details of a truly extraordinary time, population and place.
For your chance to receive free tickets to the EXPOSURE performance please complete the registration form below. Please only apply for these tickets if you can attend as there are only a limited number available. Winners of tickets will be selected at random and notified before or by the 10th August.
NHS Lothian Charity is not responsible for the quality or availability of any offer made to NHS Lothian staff.