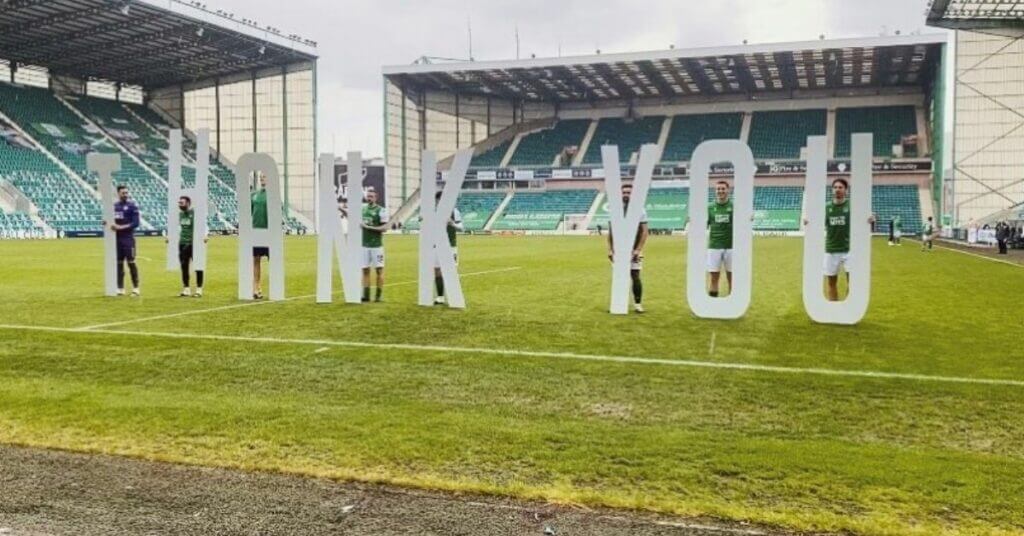 Hibernian FC And Their Fans Raise £36,000 To Support Our NHS Heroes To Date
In early December Hibernian made their initial donation to NHS Lothian Charity with a sum of £20,000 as part their pledge to support them through the 2020/21 season through their 'Thank You NHS' initiative.
Hibernian FC have made additional donations which takes the total amount to £36,000 with monies still coming in. The money handed over to ELHF is being used to care for our NHS colleagues who are caring for all of us during these difficult times.
The cash has been raised through a mixture of activities, including:
Profits from logo application to our home and away kits
Donations from each fan cut-out at Easter Road Stadium
Auction of our first NHS home shirt
Donation from Hibernian face masks
Partnership with Proclaimers on limited edition green vinyl
Keepie Uppie Challenge
Tree of Lights project at Christmas time
More fundraising activities are planned through the club's positive partnership with NHS Lothian Charity. Money raised will be used to support projects designed to help the hard-pressed NHS heroes who have worked tirelessly through both waves of the coronavirus pandemic and beyond, from providing quiet spaces to relax to much needed psychological support.
There will be an announcement in the coming days around a fun project that all fans can get involved in through the month of May.
Fans who wish to show their thanks can also make a donation towards a matchday ticket for NHS workers and key workers via the Hibernian FC website.
Greg McEwan, Head of Marketing and Brand Partnerships at Hibernian, said:
"It has been an absolute pleasure working with the team at NHS Lothian Charity this season, they are such a driven, enthusiastic group and we are just delighted to have been able to help a little through the various initiatives we've run throughout the year. We were hoping to run various events but due to the pandemic we haven't been able to bring them to fruition but hopefully another push over the coming weeks will see us hand over another five figure sum as the season comes to a close and get the figure over £50,000. The NHS staff have worked tirelessly throughout and all we are trying to do is show our appreciation for that. It's great that our donations will be used to show that we care for the carers."
Jane Ferguson, Director of NHS Lothian Charity, said:
"NHS Lothian Charity is extremely grateful to Hibernian Football Club and their amazing fans for all their support. Our NHS Heroes continue to work under huge pressure, caring for patients in our hospitals and communities as we move through the various phases of this horrible virus. It is thanks to supporters like Hibernian Football Club and their fans that we have been able to provide crucial, additional health and wellbeing support for NHS Lothian staff during these challenging times. These fundraising activities will also enable us to take forward larger, longer-term projects which will have a more profound and lasting impact on the resilience of staff and their ability to bounce back from this global health crisis.

Thank you for all your support, we couldn't do this without you."
Donate today
Support NHS Lothian patients and staff