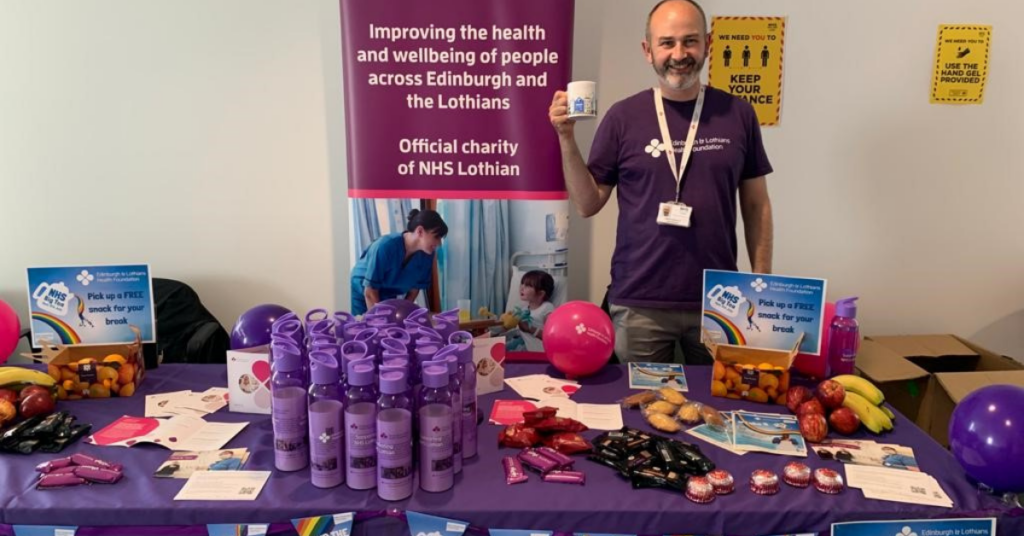 NHS Lothian Charity Supporters Raise A Mug To Celebrate The NHS Big Tea On The 73rd Anniversary Of The NHS
On Monday 5 July, the nation came together to join the NHS Big Tea, showing an outpouring of support for NHS staff who have worked tirelessly to care for us during the biggest global health crisis of our lifetime.
Thousands of tea parties took place across the country, either virtually or physically, to say a massive thank you to all staff on the 73rd birthday of the NHS.
NHS Lothian Charity's community of supporters also celebrated the occasion, hosting tea parties for family and friends or work colleagues to raise money to support the wellbeing of NHS Lothian staff. Not to miss out on the action and to show solidarity for their NHS colleagues, NHS Lothian Charity staff set up stands across various hospital sites to hand out water bottles and snacks to be enjoyed on breaks.
Community and Events Fundraiser for NHS Lothian Charity Tumong Edwards, said: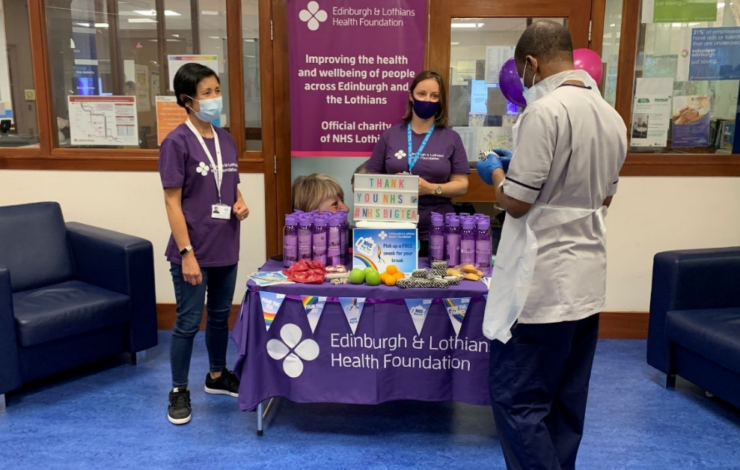 "The NHS Big Tea was a chance for communities to come together for a national outpouring of love to thank NHS staff and each other for the huge role they have played not only over the last 14 months, but always. At 3pm we raised our mugs to say a heartfelt thanks to every clinician, nurse, support worker, hospital porter and paramedic who has put themselves on the line this year to keep us and our loved ones safe."

She added: "As the official charity partner of NHS Lothian, we were delighted that so many of our supporters took part in the NHS Big Tea to raise money to champion the wellbeing of our NHS staff. Thanks to the generosity of the big-hearted people and businesses in our communities, our NHS staff will be able to take a moment to themselves through the creation of permanent wellbeing spaces on sites across the region. It has been a year like no other and it is heartening how many have raised their mugs on the NHS's birthday to say 'Thank you NHS'."
Susan Simm, Unison Steward and NHS Big Tea participant, said:
"I decided to sign my work team up for the NHS Big Tea. The reason for doing this was that I watched NHS staff go through such a turbulent year, staff stepped up to the plate like never before. The way staff banded together showing what the true meaning of working as a team was, this was absolutely amazing. Staff were worried as was most of the world but rather than show their fears they faced it head on. I watched staff suffer mentally, emotionally and physically to the point of exhaustion, some staff not being able to see their own families for long periods of time while looking after other people's loved ones.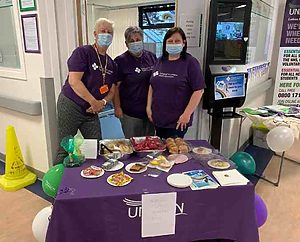 "I am so proud to say that I am an NHS worker and a member of the NHS Team. The funds raised all go back into the NHS and I am proud to be a part of giving something back to the NHS Staff. Our first contributor without hesitation was UNISON Lothian Health to kick start our raffle. Unison have been amazing with the staff offering welfare and support to NHS staff when needed.
"My Team and I are honoured to be part of the NHS Big Tea and hopefully raise as much money to put back into the NHS for staff as they so well deserve it and more."
Thanks to the amazing support of the public during the Coronavirus, we have been able to make a huge difference to staff and patients over the past 14 months, providing immediate and long-term support to help our NHS champions through this most challenging time.
Donate today
Support NHS Lothian patients and staff