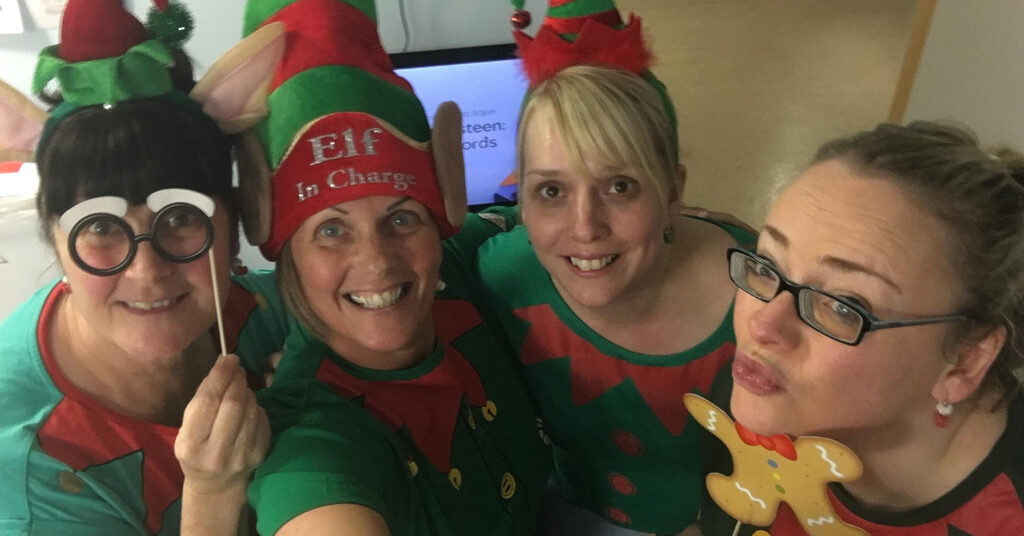 Help NHS Lothian Charity bring Christmas cheer to patients in hospitals and communities
NHS Lothian Charity has launched its new festive event, The National 'Elf Service Day, to help support NHS Lothian staff to bring Christmas cheer to patients in hospitals and communities, creating joyful memories for those who are unwell.
On the 7th of December, NHS Lothian Charity is encouraging people to sign up, dress up in their most festive elf costume or festive jumper, and make a donation. The money raised through this event will directly benefit NHS Lothian patients and staff by adding a touch of holiday spirit to their healthcare experience during what can be a challenging time of year.
Nurses like Rachel at the Royal Hospital for Children and Young People expressed gratitude for our supporters:
As soon as a family walks into our reception area, they see a giant Christmas tree covered in glitter and handmade baubles, and paper chains lining the corridors. I could see that everyone felt instantly more relaxed as soon as they walked through the door.

"It's nice to be able to give the patients something back. One of the best things about NHS Lothian Charity is that we are given the freedom to choose the presents for the children. That means we can select the presents ourselves so we can make them more personal."
Tumong Edwards, Community and Events Fundraiser, adds:
We are immensely grateful for the continuous support from everyone throughout the year. Every contribution, big or small, makes a difference. Taking part and donating during events like The National 'Elf Service Day can truly transform the experience of both our dedicated staff and patients. Your generosity brings smiles and joy, creating a meaningful difference in their lives during the festive season."

Staff and patients across Edinburgh and the Lothians have already signed up to take part.

Sarah Hall, Operational Business Manager at Midlothian Community Hospital said

Midlothian Community Hospital is at the heart of Midlothian Health and Social Care Partnership. It's a busy community hospital, providing a range of inpatient and outpatient services for people living in Midlothian. Now more than ever we are looking for many ways to help fundraise for our hospital and are delighted to be taking part in National Elf Service Day this year. The Elf's motto is 'Give a hug, get a hug' and this is certainly what all of our kind donations do in helping us to share some care, compassion, fun and happiness with those in our care, so thank you!"
Can you help NHS staff like Rachel and Sarah bring joy to patients during a difficult time? Click the button below to sign up and take part.
Sign up
Treat your 'elf to some festive fun and take part in the National 'Elf Service Day on 7th December.