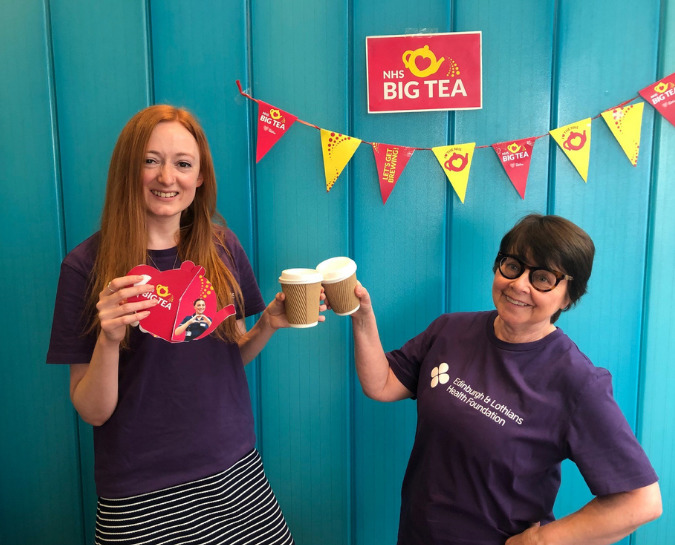 Celebrate Our NHS With A PAR-TEA!
Last year saw the general public and NHS staff support NHS Lothian Charity by organising their very own NHS Big Tea parties.
Money raised was used to support the wellbeing of our NHS Heroes by helping to provide wellbeing spaces across every NHS Lothian site, so that staff could take a moment to themselves as they continued to work under pressure.
This year, the event will once again take place on the 5th of July, the NHS' 74th birthday. NHS Lothian Charity is appealing to supporters to save the date, or any date in July that suits them, and register to host a NHS Big Tea party.
Whilst there have been disruptions to getting together over the last two years due to COVID restrictions, the charity hopes this year will see a return to getting together with friends, family and colleagues, whilst celebrating one of our national treasures, the NHS.
Susan Simm, Unison Steward and NHS Big Tea participant, said:
"I decided to sign my work team up for the NHS Big Tea [in 2021]. The reason for doing this was that I watched NHS staff go through such a turbulent year, staff stepped up to the plate like never before. The way staff banded together showing what the true meaning of working as a team was, this was absolutely amazing. Staff were worried, as was most of the world, but rather than show their fears they faced it head on.

"I am so proud to say that I am an NHS worker and a member of the NHS Team. My Team and I are honoured to be part of the NHS Big Tea."
Tu Edwards, Community and Events Fundraiser said:
"The NHS Big Tea is a tea-riffic way to get together with friends, family or colleagues to celebrate our NHS. By hosting a tea party, you will make a difference to people when they are unwell and accessing our NHS. This year money raised will help support life-changing projects, research, specialist equipment and a multitude of other projects that have the potential to keep families together for longer and improve lives of those living in Edinburgh, the Lothians and beyond."
Register Now
Receive your free fundraising pack to support NHS Lothian